PAINTLESS SCRATCH REMOVAL
Rust Check Richmond Hill offers the finest paintless scratch removal services available for your vehicle. Unlike the other guys, we use sprayless scratch removal technology that is quick, inexpensive and environmentally-friendly.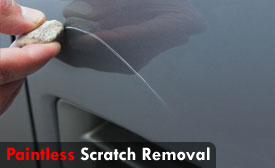 Most auto scratch repair methods involve the application of spray paint to your vehicle, which releases CFCs and can
be costly, impacting not only the environment but also your wallet. By using the SSR scratch repair process, Rust Check Richmond Hill eliminates the downfalls associated with common scratch repair services.
What are the advantages of Paintless Scratch Removal?
Apart from the obvious benefits of eco-friendliness and affordability, SSR scratch repair also boasts a number of other advantages:
The process is easy and convenient.
Same day service (depending on the severity of the scratch or the number of scratches that need reparation).
Durable and long-lasting, so you won't have to have multiple applications or worry about the scratch reappearing.
Get rid of imperfections on your vehicle!
Whether you need to remove a small blemish or chip, or your vehicle has a much larger cosmetic flaw, Rust Check Richmond Hill can give you the auto scratch repair service that your car requires. We offer scratch repair for any size job, from a single scratch to multiple panel repair.
A simple three step process of applying base paint, buffing, and then polishing the area will have your car looking lustrous and new in no time, and for minimal cost.
Visit Rust Check Richmond Hill, or give us a call today at 905-737-7630 and ask about our sprayless scratch removal service!