AUTO WINDOW TINTING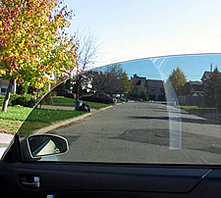 Are you considering getting your windows tinted? We provide the highest quality window tinting Richmond Hill has to offer. Regardless of the vehicle you own, tinting is an inexpensive and practical modification. Apart from improving the appearance of an automobile, window tinting provides a number of functional advantages, including:
Keeping interiors and seats cool in hot weather – Tinting works to shade the interior of the vehicle and reject heat. This makes your car much more comfortable to drive and sit in, particularly in the hot summer months when steering wheels and seats tend to get very hot.
Reflects harmful UV rays that emanate from the sun ­– Much in the same way that sunglasses do, tinted windows reflect 99% of the sun's harmful rays, providing you protection while you are in the vehicle.
Reduces glare which increases visibility – Low visibility isn't a problem exclusive to poor weather conditions; it can also happen on clear summer days when it is very bright. Tinted windows significantly reduce glare, providing a clearer view of the road.
Reduces fading in your vehicle's interior – The fabrics, seats, dashboard and other parts of your vehicle's interior are less susceptible to fading if your car has tinted windows.
Saves gas by requiring less AC use ­– Since tinting keeps your car's interior cooler and more comfortable, it reduces the need and frequency of AC use, which in turn can save gas.
Provides privacy and conceals property – Many car break-ins are opportunistic; thieves spot valuables in a vehicle and steal them. Tinted windows improve security by keeping property out of sight, thus avoiding these opportunistic snatch-and-grabs.
Makes glass safer in the event of breakage – This is a little known fact, but in the event of a car accident, tinted windows can actually help shattered glass hold together. This can prevent glass from spraying into the vehicle and harming the occupants.
Improves appearance – Window tinting can give your car a sleek, sporty and customized look, adding aesthetic value to your vehicle for very low overhead cost.
The benefits of tinting are numerous, from appearance to safety to increasing the longevity of your vehicle. Auto tint performs better and more effectively than any other aftermarket product available anywhere! Call us today to receive the best window tinting Richmond Hill has to offer!